Our hours of operation are Monday – Friday 8 am – 5 pm.
Closed for lunch hour 12-1 pm
Contact information is Nicole, Admin in Sociology. Nicoleh@nmsu.edu 575.646.3448 or
click here to zoom
Dear Students, 
NMSU has received $7 million in Higher Education Emergency Relief Funds II for student emergency financial aid grants.
If you could benefit from these available funds, click here to apply.
As always, we are here to help you in any way we can. If you need anything, please don't hesitate to reach out to us. 
Read our statement concerning the Black Lives Matter protests.
The department's Twitter account is now live! If you are on Twitter, be sure to follow us at https://twitter.com/NMSUSoc
Welcome
Hi, and welcome to the Department of Sociology. We have a strong and vibrant department, currently consisting of nine Sociologists. Our specializations are in Race/Ethnicity, Inequality, Capitalism, Social Movements, Big Data, and Environmental Sociology; as well as Popular Culture. We have nationally ranked programs at both the graduate and undergraduate levels. We have an active, involved collection of faculty who has made it their goal to reach out and help our students be the best they can be. Please feel free to call, email, or stop by the Department of Sociology and we will gladly share our vision of your future with you.

We been named #1 in the U.S. for the most affordable online Master's degree in 2020. Read more about it here.
ABOUT THE SOCIOLOGY PROGRAM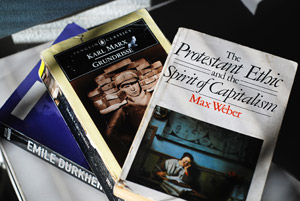 Image courtesy of Jon Williams

Sociology is the study of group life. As a social science it combines scientific perspectives in the study of human groups. It provides tools for understanding how and why our society functions; the impact of social institutions on individual lives; and the challenges of social interaction between individuals and society.

Therefore, sociology provides tools for understanding and building better social relationships. These tools are critical for the workforce in the 21st century. As time has passed, companies have recognized that technological changes have facilitated new training in hard skills for their employees continually, therefore these hard skills are not as significant. Soft skills are.

Examples of soft skills include such things as communication, flexibility, leadership, motivation, patience, persuasion, problem solving abilities, teamwork, time management, and work ethic. While certain hard skills are necessary for any position, employers increasingly look for job applicants with soft skills. This is because while it is easy for an employer to train a new employee in a particular hard skill (such as how to use a certain computer program), it is much more difficult to train an employee in a soft skill (such as patience). Sociology provides these skills. Our students achieve jobs in all sectors of the economy. Whether it be law, social services, health care, marketing, management, research and development, or a number of other areas, in the ever diverse workforce of the 21st century, a degree in Sociology only becomes more and more valuable.
Our Location: Science Hall, Room 286
The Sociology Department is located in Science Hall, which is on the corner of Williams and Stewart Street on the NMSU campus. Come visit us on the second floor.