Dr. Cynthia Fabrizio Pelak
Indigenizing Sociology, Race and Gender Studies, Social Inequalities, Social Movements, and the Sociology of Sport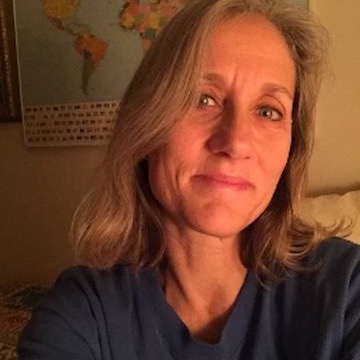 Contact Information
Office: Science Hall 289B
Email: cpelak@nmsu.edu
---
---
Education
Ph.D. – The Ohio State University, 2002
B.A. – Albion College, 1984
Background
Dr. Pelak is an associate professor of sociology and a faculty affiliate of the Borderlands and Ethnic Studies program at New Mexico State University.
Land Acknowledgement
New Mexico State University-Las Cruces is built on the lands of Manso peoples, numerous Apache and Pueblo nations, including Mescalero Apache, Piro-Manso-Tiwa, Chiricahua Apache, Tortugas Pueblo, and other sovereign Indigenous peoples. As an U.S. land grant institution, NMSU's founding and endowment was based upon, and continues to be enriched from, expropriated Indigenous lands. As a NMSU faculty member with "white" settler privilege, I acknowledge this history, and the continued presence of Indigenous peoples and nations on this land, as relevant and critical to all the teaching, research, service and outreach that I perform at this public institution.
Research
My scholarship focuses on understanding the processes by which social inequalities are created, institutionalized, and transformed in contemporary societies by individuals and groups. I am particularly interested in the ways that social inequities are produced by intersecting systems of racism, sexism, classism, and colonialism, and maintained by unacknowledged dominant cultural beliefs, values, practices and ideologies.
Recent publications:
Pelak, Cynthia Fabrizio. 2019. "Teaching and Learning about Settler-Colonial Racism: A Case for "unsettling" minoritizing and multicultural perspectives." Sociology of Race & Ethnicity 5(2):294-304.
Pelak, Cynthia Fabrizio. 2015. "Institutionalizing counter-memories of the U.S. civil rights movement: The National Civil Rights Museum and an application of the interest-convergence principle." Sociological Forum 30(2): 305-327.
Past research with students:
The students in my graduate research methods course at the University of Memphis conducted an annual survey of students enrolled in undergraduate sociology classes. The sample sizes for each survey was approximately 500 students. To learn about the findings for the student-conducted surveys, click on the below links.
Teaching
I teach graduate-level seminars on Race and Ethnic Relations (SOCI 571) and Social Stratification (SOCI 575) and undergraduate courses on Introductory Sociology (SOCI 101G), Gender and Society (SOCI 357), and Sport and Society (SOCI 394V). Other courses that I have taught include: Multiracial Feminist Theories, Research Methodologies, Social Movements, Social Inequalities, and Sociology of Families. I am a co-author of a Introduction to Sociology textbook (Pearson Publishers) and I regularly publish in the area of Scholarship on Teaching and Learning (SoTL):
Curry, Timothy, Robert Jiobu, and Cynthia Fabrizio Pelak. 2020. Sociology: Evidence and Insights, First edition. Hoboken, NJ: Pearson Education, Inc. (Print and Interactive Revel eBook).
Pelak, Cynthia Fabrizio and Stacey Duncan. 2017. "Using a Social Science Fictional Play to Teach about Global Capitalism and Macro-Structural Systems in Introduction to Sociology." Teaching Sociology 45(4):1-13.
Student feedback on Professor Pelak's Sociology 101 course: